Hybrid Anesthesia/Pain Management
Hybrid Anesthesia/Pain Management
Date:
12/3/2023
Time:
All Day
Short Description:




Empire State Spring MasterTrack Program
"Anesthesia/Pain Management"
Dates: Sunday, December 3 and Sunday, December 10, 2023
Location December 10: NYSAGD Learning Center, 1902 Whitestone Expressway, Whitestone, NY 11357-Suite 204
Lecture 9:00 am to 3:00 pm
12 MCE Participation Credit Hours / Course Code: 340
This course will fulfill the AGD 12hr participation credit hours towards mastership
This highly sort after hands-on MasterTrack Anesthesia/Pain Management course will be a hybrid Master's Program. The lecture portion will be a live zoom webinar on June 11. The hands-on portion will be in-person on Sunday, June 25 in our Whitestone, NY learning center.
Presentation by: Dr. Archana Viswanath
Dr. Archana Viswanath is a Clinical Associate Professor in the Department of Oral and Maxillofacial Pathology, Radiology and Medicine. She is a board-certified Orofacial Pain specialist and a Fellow of the American Academy of Orofacial Pain. She graduated from Rutgers University (formerly UMDNJ) in 2007 with a fellowship and Masters in Orofacial Pain and Temporomandibular Joint Disorders. She completed post-doctoral NIDCR T32 clinical research fellowship at University of Maryland Dental School. Prior to NYU, she was the Director of Clinical Research in the Department of Oral and Maxillofacial Surgery at Tufts University School of Dental Medicine. Her clinical practice focuses on all aspects of chronic facial pain including but not limited to headaches, persistent dentoalveolar pain, trigeminal neuralgias, temporomandibular joint disorders, and oral appliances for sleep-related breathing disorders.
Her research interests are in acute to chronic pain translation, sequala of neurologic injuries, evaluating the efficacy and safety of novel analgesic medications. Over the years, she has published extensively on these topics and has presented at various national and international meetings. She is a member of the American Academy of Orofacial Pain, American Headache Society, and American Academy of Dental Sleep Medicine.
Course Goals and Objectives:
The ADA has recognized the field of orofacial pain as the 12th specialty in dentistry. Recognition of the specialty solidifies another link between dentistry and medicine, acknowledging that the orofacial region, oral cavity, and masticatory system are an integral part of total patient care. It is important for all dentists to recognize accepted diagnostic protocols, have an awareness of differential diagnosis and appropriate management.
The overall goal of the course is to provide a comprehensive education in orofacial pain, temporomandibular joint disorders, and headaches for general dentists to diagnose and treat patients with chronic pain. In addition, it will also help you to recognize and refer to and orofacial pain specialist when necessary. It will also provide evidence-based principles and guidelines to help to integrate the critical thinking skills into daily clinical practice. The course is divided into two modules.
Sunday, December 3 - Module 1 (Zoom) 6 hours
Comprehensive history taking, detailed examination, imaging of chronic pain patients presenting to a dental clinic

Differential Diagnosis of orofacial pain and Temporomandibular Joint Disorder (TMD)

Understand the international classification of orofacial pain and headache disorders, including pathogenesis, clinical presentation, and management

Orofacial pain related to dentoalveolar structures and oral and maxillofacial anatomically related structures
Differentiate between odontogenic and non-odontogenic pain

Acquire knowledge about neuralgias and intraoral pain disorders such as trigeminal neuralgia, neuropathic pain, post-implant nerve injury/neuropathy

Comprehensive overview of headache disorders with special focus on headache disorders presenting as toothache

Comprehend the occlusal and skeletal factors contributing to TMD, assessment and treatment modalities of temporomandibular joint and masticatory muscle disorders, and the use and understanding of different hard and soft tissue imaging.

Understand the risk assessment of psychological and medical factors; behavioral management, and pharmacotherapy approach to TMD and orofacial pain patients.
Sunday, December 10 - Module 2 (In-person)
Comprehensive Orofacial pain clinical examination

Diagnostic blocks, spray and stretch

Fabrication, fitting, and adjustment of oral appliances for Temporomandibular joint disorders

Temporomandibular Joint Injections

Trigger point injections to masseter, temporalis, lateral and medial pterygoid region, Trapezius, SCM

Therapeutic Botox: Learn the use, limitations, and clinical effects of Botox in the management of myofascial pain, and other intraoral pain conditions
(Price includes breakfast. lunch, materials)
To register, members can login using their six-digit AGD number and the password nysagd
The Empire State Mastership Track is a "Protocol" program that complies with the standards and guidelines of AGD's Council on Dental Education. In order to receive full participation credit the participant will be required to do a case presentation based on an in-office procedure that reflects the material taught by the instructor. The fee for this program includes the case presentation session, held approximately 6 months after the initial meeting. This program is open to all dentists including pre-fellows as credit is applied towards Mastership.
New York AGD is designated as an Approved PACE Program Provider by the Academy of General Dentistry. The formal continuing education programs of this program provider are accepted by AGD for Fellowship, Mastership and membership maintenance credit. Approval does not imply acceptance by a state or provincial board of dentistry or AGD endorsement. The current term of approval extends from 01/01/2023 to 12/31/2024. Provider ID # 219318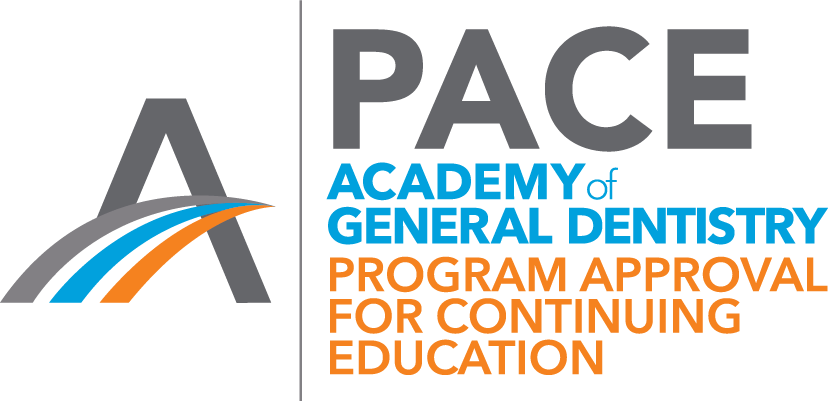 Cancellation Policy - If your cancellation is at least 48 hours in advance of the class, you will receive a full refund. If your cancellation is less than 48 hours in advance, we will not be able to issue a refund.