Continuing Education
January 28, 2024 at 9:00 AM to 3:00 PM
Pricing
| | |
| --- | --- |
| Non-Member | $600.00 |
| Staff/Auxiliary | $475.00 |
| Resident/New Dentist | $475.00 |
| Member | $475.00 |
General Information
| | |
| --- | --- |
| Provider | New York AGD Learning Center |
| Speaker | Dr. Jason Kyles |
| Type/Category | Participation |
| Credits | 12 MCE Participation Hours |
This course will fulfill the 12 hours of hands-on Oral Medicine/pathology for AGD Mastership.
Empire State MasterTrack Program
"What a General Dentist Needs to Know About Oral Medicine and Oral Pathology"
Dates: Sunday, January 28 and Sunday, February 4, 2024
Location February 4: NYSAGD Learning Center, 1902 Whitestone Expressway, Whitestone, NY 11357-Suite 204
Lecture 9:00 am to 3:00 pm
12 MCE Participation Credit Hours / Course Code: 730
This course will fulfill the AGD 12hr participation credit hours towards mastership
This highly sort after hands-on Oral Medicine/Pathology course will be a hybrid Master's Program. The lecture portion will be a live zoom webinar on Sunday, January 28. The hands-on portion will be in-person on Sunday, February 4 in our Whitestone, NY learning center.
Presentation by: Dr. Jason Kyles
Dr. Kyles earned his Doctor of Dental Surgery degree from the University of Tennessee College of Dentistry. He holds a Certificate in Oral and Maxillofacial Pathology from New York Presbyterian Queens. Currently, he is serving as a Clinical Assistant Professor in the Department of Oral and Maxillofacial Pathology, Radiology, and Medicine at New York University College of Dentistry.
Course Goals and Objectives:
Sunday, January 28 - Module 1 (Zoom) 6 hours
1. HPV Update

2. Candidiasis Update

3. Oral Melanocytic Lesions

4. What to biopsy and why

5. H&N Examination Update

Sunday, February 4 - (In-person)
1. Head and Neck Examination Hands On

2. Biopsy Techniques

a. Punch

b. Scalpel

c. Smear
(Price includes breakfast. lunch, and course materials for February 4)
To register, members can login using their six-digit AGD number and the password nysagd
The Empire State Mastership Track is a "Protocol" program that complies with the standards and guidelines of AGD's Council on Dental Education. In order to receive full participation credit the participant will be required to do a case presentation based on an in-office procedure that reflects the material taught by the instructor. The fee for this program includes the case presentation session, held approximately 6 months after the initial meeting. This program is open to all dentists including pre-fellows as credit is applied towards Mastership.
New York AGD is designated as an Approved PACE Program Provider by the Academy of General Dentistry. The formal continuing education programs of this program provider are accepted by AGD for Fellowship, Mastership and membership maintenance credit. Approval does not imply acceptance by a state or provincial board of dentistry or AGD endorsement. The current term of approval extends from 01/01/2023 to 12/31/2024. Provider ID # 219318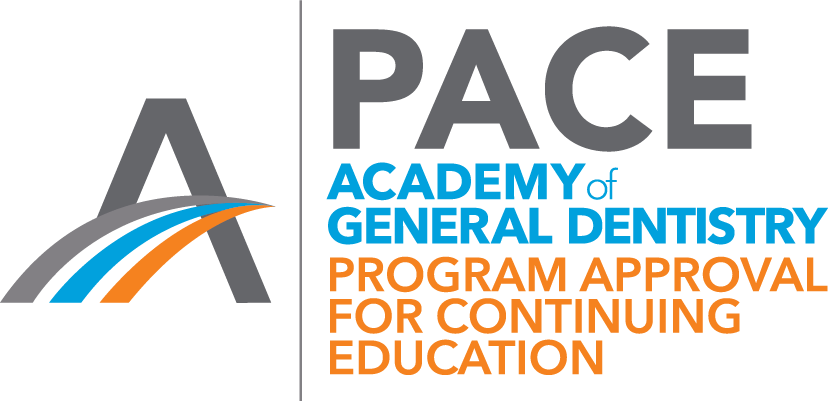 Cancellation Policy - If your cancellation is at least 48 hours in advance of the class, you will receive a full refund. If your cancellation is less than 48 hours in advance, we will not be able to issue a refund.